Rubber B
World-class manufacturers of custom watch straps, Rubber B craft their accessories from vulcanised rubber to provide a hard-wearing, damage-resistant accessory without ever sacrificing style.
Authorised Retailer of Rubber B Straps and Watch Bands
If you're looking to alter the look of your watch but want to retain its style and sense of luxury, Rubber B straps and watch bands could be perfect for you. Blowers is a proud, authorised supplier of Rubber B. We stock a variety of models in our range to fit virtually any timepiece you could need.
Rubber B supplies some of the highest quality, most stylish watch straps on the market that will go great for any occasion and on any watch — no matter the make or model. Rubber B straps come in a range of colours that you can select to best match the watch case, or to complement a particular outfit or article of clothing.
Thinking About Purchasing a Pre-Owned Luxury Watch Too?
Are you interested in purchasing a luxury second-hand watch? From Rolex to Panerai, Patek Philippe to Audemars Piguet, and beyond; Blowers has an extensive collection of some of the highest quality and most sought after secondhand timepieces to choose from.
Types of Rubber B Watch Bands
Blowers stocks a wide array of different Rubber B watch bands and straps designed to go with any luxury watch make or model you may have in mind.
Rubber B Glidelock
Rubber B Glidelock straps come fitted with the patented Glidelock technology, allowing for extra comfort when worn over a wetsuit, as well as allowing for greater adjustment to temperature change.
Rubber B Velcro Series
The exclusive Velcro Alfatex closure of the Rubber B combines the comfort and flexibility of a vulcanised rubber strap with the convenience of Velcro Alfatex, without losing any of the security.
Rubber B Swimskin
The revolutionary Rubber B Swimskin strap is designed to recreate the look and feel of natural moisture-sensitive materials — making it waterproof, perfect for those who lead active lifestyles in and around the water.
Order Your Rubber B Today
If you're looking for a strong, comfortable alternative to traditional metal bracelets, NATO straps, or leather bands, then it simply has to be Rubber B. Order your Rubber B strap today by filling in our contact form. Please provide your contact information, details on your watch, preferences on size and colour, and we'll be in touch as soon as possible.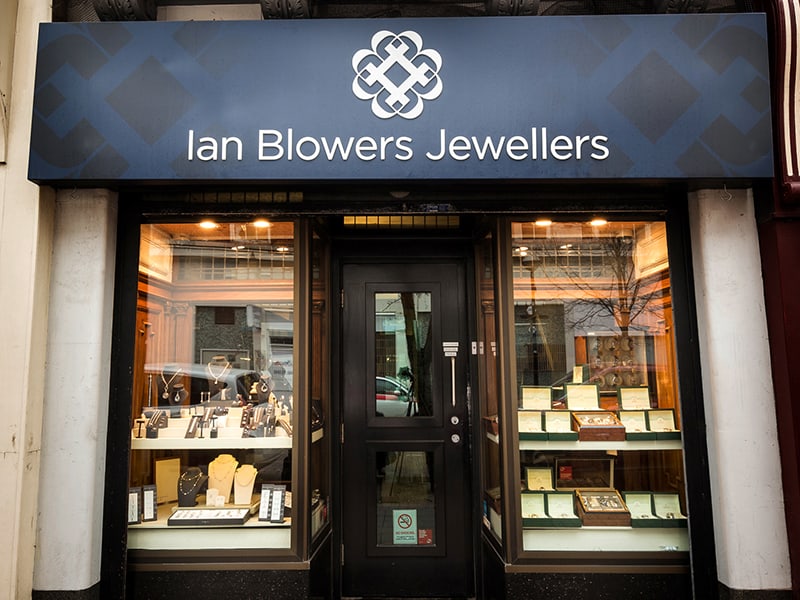 Visit Us in Store
We Offer Complimentary Sizing & Fitting
Kingston Upon Hull
43 Savile Street, HU1 3EA
01482 323921
Rubber B Frequently Asked Questions
Are All Rubber B Sizes the Same?
Depending on which series of strap you are purchasing, Rubber B does have a universal size created to fit any and all wrists. However, some straps/bands come in specific sizes ranging from XS-XL
Do Rubber B Straps Work with Every Watch?
Rubber B straps do not work with every watch. They are each specifically designed and built to cater to a specific watch brand or model. However, Rubber B does create straps and bands for a variety of different watches — contact us for more information.
Everest or Rubber B: Which Is Best For Me?
This is ultimately down to taste and personal preference. While Everest and Rubber B may both have their positives when paired against each other, they both represent some of the best luxury watch straps on the market. Which is better for you depends on you and how you intend to use the strap.
Rubber B Installation: How Does it Work?
Installing a Rubber B strap should be as simple as removing the spring bar, inserting it into the Rubber B strap shaft, and clicking it into position on your watch. The clasp can then be mounted onto the normal screw using a jeweller's screwdriver. However, the specifics of installation will likely depend on your watch, and which strap you purchase.
If you find yourself unsure or uncomfortable with any aspect of installation, or you wish to ensure that there is absolutely no scratches or damage caused to the spring bars or the watch itself, Blowers offer a service where they will fit and install any Rubber B strap onto your watch for you.
Rubber B vs Oysterflex: What's the Difference?
Rubber B and Oysterflex do have some similarities in style and functionality. However, as one of the originators and innovators of the industry, Rubber B have the pedigree and prestige to put them head and shoulders above. Rubber B straps are highly stylish, comfortable, and designed to perfection to complement your watch and conform to your wrist.