When it comes to watchmaking history, one name which often comes to the fore is Abraham-Louis Breguet. The famous watchmaker was born in Neuchâtel, but spent much of his life working in Paris.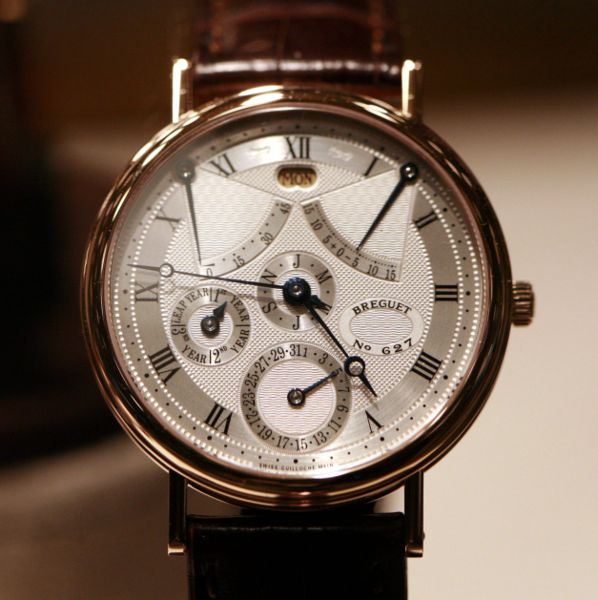 Breguet History: The Genius of Breguet
Breguet was an innovator and ahead of his time. In 1801, he famously patented the tourbillon, a mechanism designed to counter the negative effects of gravity on the rate keeping of a mechanical watch movement.

His prowess as a watchmaker was augmented with remarkable business acumen, attracting the patronage of royalty and leading members of society. The impressive list of clients included Marie Antoinette, Napoleon Bonaparte and the Duke of Wellington.

Other technical achievements include the Breguet overcoil which enhanced isochronism by allowing the hairspring to breathe more evenly and symmetrically. The Breguet overcoil remains synonymous with high-end watchmaking to this day.

Breguet was the first watchmaker to incorporate a "pare-chute" into a pocket watch. The anti-shock device mitigated the risk of damage should the watch be dropped. It wasn't until the 1950s that other systems would become commonplace, such as Incabloc, perfectly illustrating that Breguet was a forward thinker.

Another skill of Breguet was his eye for design. His creations always exhibited a sublime beauty. He defied convention at the time by placing the hours and minutes display off-centre. The subsidiary seconds display would be located where there was sufficient space beneath the dial, according his watches a slimmer, more attractive appearance than rival watches.

Today, Breguet numerals and Breguet hands have become part of the horological parlance used by many brands, but their origins can be traced back to the great man himself.

Breguet of Today
The modern-day Breguet is part of the vast Swatch Group. However, the brand still retains many of the design codes which have attracted praise from the cognoscenti over the years.

Enamel dials or dials featuring fine guillochépatterns confer a notable degree of style. The brand continues to use hand operated rose-engines to impart various motifs, including clou de Paris hobnailing and barley corn patterns.

Congruent with the ethos of innovation practised by Abraham-Louis Breguet, the maison continues to embrace new technologies. In recent years, it has employed silicon for the manufacture of balance springs, pallet levers and escape wheels and delivered watches with incredibly fast frequencies of 10 Hertz, conferring high precision and mitigating frictional forces.

An Alternative Look
While many Breguet models evince a classical, formal appearance with welded lugs, the Type XX is a pilot's watch with a more robust appearance. It was designed in the 1950s for the French naval air arm, featuring a hand-wound chronograph movement that included a flyback function.

In recent times, this model has provided the inspiration for a swathe of timepieces from the brand including the Type XX Aéronavale with its tri-compax layout and self-winding movement. The Type XX Transatlantique features a date display positioned above 6 o'clock while the larger Type XXI Flyback Chronograph has a case diameter of 42mm and a centrally positioned elapsed minute register.

However, irrespective of which model is selected, each version remains an exemplar of clarity, facilitating ease of read off and including the useful flyback function of the original 1950s model.

Closing Remarks
The Breguet watches of today continue to bestow graceful lines, innovation and prestige. The movements are infused with high-end finishing imparted by the hands of artisans. Although the watches are now made in Switzerland, rather than France, they continue to exhibit a wonderful savoir-faire with exquisite designs which proffer much eye-appeal.

Whilst some rare, vintage Breguet watches attract high values at auction, there are sometimes opportunities to acquire a finely executed pre-owned model at a price substantially less than new, making these models superb value for money for the shrewd watch buyer.
Browse Blowers' selection of Breguet watches online today.