Chopard is synonymous with glamorous jewellery worn by the glitterati. Moreover, the company has earned an enviable reputation for its timepieces, which exhibit a notable quotient of style and high-quality construction. Its origins can be traced back to 1860, when Louis-Ulysse Chopard established his watchmaking workshop in Sonnvilier, located in the canton of Bern.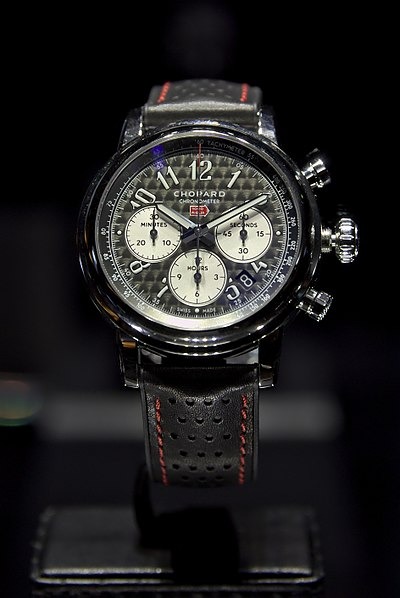 Chopard History
Paul-André Chopard, the grandson of Louis-Ulysse had two sons, but neither wished to take over the family business. Coincidentally, Karl Scheufele III, owner of a German watch and jewellery business, was seeking to acquire a Swiss watch manufacturer. This resulted in the two men meeting and in 1963, Chopard was acquired by the Scheufele family. It has remained under family's control ever since.

Karl Scheufele III and his wife Katrin still have an active role in the business, but their children, Caroline and Karl-Friedrich, have been Co-Presidents of the company since 2001 and are often seen in public, representing the brand. Indeed, each year, Caroline can be seen gracing the red carpet at the Cannes Film Festival, an event Chopard has enjoyed a relationship with since it became an official partner in 1998.

Chopard has manufacturing operations in Switzerland (Fleurier and Geneva), as well as Pforzheim in Germany.

Floating Gems
The first Happy Diamonds watch was created in 1976. It featured circular mounted stones sandwiched between panes of sapphire crystal, seemingly dancing with vitality. Initial models were aimed at men, but would later find favour with female customers. Moreover, the dynamic diamonds have since seen service not only in watches, but in other product categories such as rings, earrings and necklaces.

As a teenager, Caroline Scheufele conceived the 'Clown' with hinged legs and an open-worked belly revealing floating gems. While this design was in stark contrast to the classically styled Chopard products of the time, it proved especially popular with a young clientele and revealed, for the first time, Caroline's remarkable design prowess.

The Happy Sports watch collection, released in 1993, placed floating diamonds within a contemporary stainless steel case. This proved unusual at the time, as diamonds were normally combined with noble metals. The range of models has proved incredibly popular and seen variants subsequently offered in gold cases, embracing coloured stones and even incorporating a tourbillon complication. Nevertheless, one trait is common to all Happy sports watches and that is a palpable air of femininity and fun.

A Passion for Racing
Chopard became a partner of the Mille Miglia in 1988. With a keen interest in motorsport, Karl-Friedrich Scheufele has regularly competed in the event with his close personal friend, motor racing legend, Jacky Ickx.

Each year, the brand has released a Mille Miglia model. Often they have been chronometers and frequently included a chronograph, but not always. In the 1990s, some models were equipped with quartz movements, however, the majority of watches, especially those released in recent times, have featured mechanical calibres.

Since 2002, Chopard has also been the official timekeeper of the Grand Prix de Monaco Historique. The event sees priceless classic cars race around the streets of Monte Carlo. At Baselworld 2014, the Swiss brand released its GPMH collection which included stunning stainless steel models combining black and yellow shades as well as watches presented in gold cases.

L.U.C
The ultimate expression of Chopard's watchmaking expertise is L.U.C. The three letters pay due reverence to the founder of the company, Louis-Ulysse Chopard,

Chopard Manufacture was founded in 1996. Located in Fleurier, the site released its first movement, the automatic L.U.C 1.96, in its inaugural year. Since this time the company has released further calibres and movement modules.

The peerless craftsmanship of Chopard L.U.C is typified with high-end finishing on movements utilising a significant amount of traditional hand applied techniques.
Those models bearing the prestigious Poinçon de Genève, Hallmark of Geneva, are subsequently assembled and regulated at the company's Geneva site.

Chopard, together with Parmigiani Fleurier, is a founding member of the Fleurier Quality Foundation, established in 2004, and several of its models meet the onerous criteria laid down. The certification standard attests that 100% of the watch head is Swiss made and conforms to various requirements relating to quality of finish, chronometry and durability.

The Chopard L.U.C model range incorporates numerous complications including chronographs, striking watches, perpetual calendars and tourbillons. Technical innovations include the patented L.U.C Quattro technology which features four barrels, delivering an impressive 9-day power reserve.

Again, inspiration from the automotive world can be seen with the L.U.C Engine One Tourbillon which is designed to resemble an engine block, appearing to almost float within its rectangular shaped case. The design is contemporary and provides an interesting alternative to some of the traditionally styled watches within the L.U.C collection, but retaining the same degree of elevated finishing.

Closing Remarks
Chopard may be a byword for style and its designs may at times exude an air of fun, but the brand never fails to imbue its products with quality and no-compromise construction.

The Swiss brand's jewellery ranges from accessible to incredible unique creations with seven-figure pricing. Some watches incorporate ETA calibres, but an increasing number of models feature manufacture calibres. Moreover, the impressive in-house expertise extends to making cases, bracelets and other watch components.

The Chopard L.U.C models have not always received the attention they truly deserve which is sometimes reflected in residual values. This trait makes a compelling argument for considering a pre-owned Chopard L.U.C, which offers exemplary construction, typical of haute horlogerie, sometimes making them better value than other mainstream luxury watches.
Browse Blowers' collection of Chopard watches online today.