In the sphere of high-end watchmaking, employing the strapline, "Master of complications", is a very bold claim to make. However, the Swiss-born watchmaker, Franck Muller, earned a reputation early in his career for producing watches which harnessed complicated movements.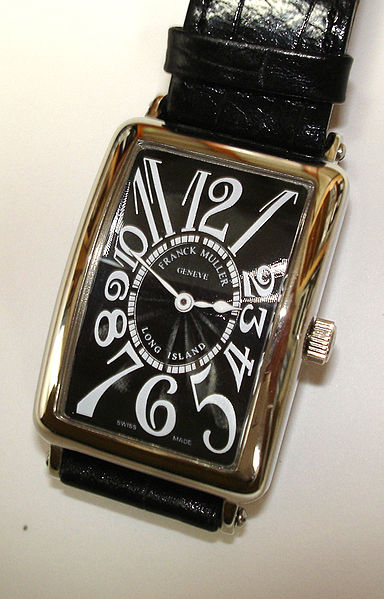 Franck Muller History
During the 1980s, Muller displayed an obsession with Abraham Louis Breguet's invention, the tourbillon. Muller not only employed the whirlwind mechanism within his watches – he presented them on the dial, contrary to usual watchmaking practice at the time.

In later years, Muller combined the tourbillon with other complications, to deliver grand complications. The Aeternitas Mega 4, released in 2007, includes 36 complications, incorporates 1483 components and is reputedly one of the most complicated watches in the world.

Watchland
Franck Muller approached a manufacturer of watch cases, Vartan Sirmakes, to design new cases for his watches. The two men would ultimately join forces in 1991, establishing a new company, taking the name of the famous watchmaker, Franck Muller.

In 1994, the business moved to a lakeside mansion at Genthod, on the outskirts of Geneva, named Watchland. This site is the largest of six production facilities owned by the company and has spare capacity for future growth.

Watchland plays host to an array of trades including engravers, jewellers and watchmakers. Moreover, the site is responsible for design, case making and final assembly.

Similar to terroir influencing the resultant taste of fine wine, Watchland provides the creative inspiration for Franck Muller watches.

Today, Franck Muller creates in excess of 40,000 watches per annum.

Cintrée Curvex™
While Franck Muller offer rectangular, round and square shaped watches, the Cintrée Curvex™ case will always be the form most closely associated with the company's name.

At first glance, the case may appear to resemble a conventional tonneau shape, but close examination reveals a plethora of curved surfaces. The case back includes an arc-shaped surface which accords a sublime ergonomic fit with the wearer's wrist.

An Ability to Surprise
At the heart of the Franck Muller paradigm is a desire to innovate and surprise. The Crazy Hours watch features unconventionally positioned Arabic numerals. As the minute hand makes one full revolution, the hour hand jumps to the next prevailing hour, often positioned opposite.

Closing Remarks
It is the ingenuity of Franck Muller to deliver complications seldom seen elsewhere, together with the bold, daring use of colours and precious stones which distinguishes them as quite unique and collectable.
Browse Blowers' selection of Franck Muller watches online today.