Vacheron Constantin can trace its origins to 1755 when Jean-Marc Vacheron founded a watchmaking business in Geneva. The company is the oldest watch company "in continuous operation since it was founded".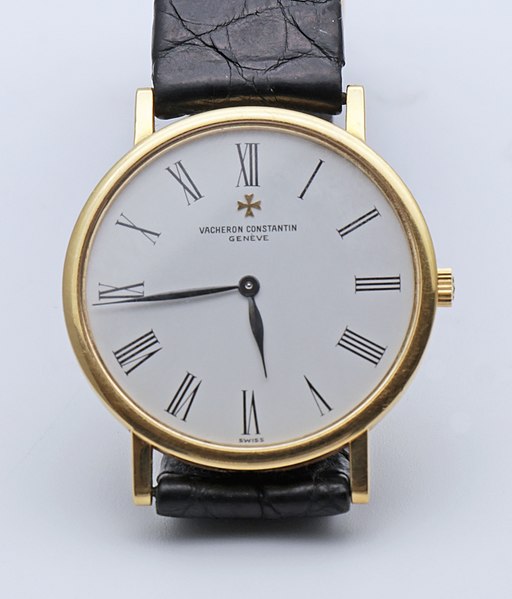 Vacheron Constantin History: Genevan Haute Horlogerie since 1755
Jean-Marc Vacheron was only 24 years of age when he started his company and he took the bold step to recruit an apprentice.
The name Constantin would arrive many years later. Jacques Barthélemy Vacheron formed a partnership with François Constantin in 1819. François clearly exhibited a remarkable prowess for business and took the company into new markets. It is François Constantin who famously wrote, "Do better if possible, and that is always possible". Clearly a perfectionist, he would often write to Jacques Barthélemy demanding repeater watches of the finest quality.
Sublime quality has always been at the core of the company's paradigm. Initially, in the 18th century, pocket watches were typically finished and assembled by master watchmakers with various components such as movement parts, dials and cases being outsourced. Over the years, Vacheron Constantin has used base movements from third parties with subsequent finishing in-house, but it now produces an increasing number of its own in-house movements.
Whilst the company does have a facility in the Vallée de Joux, the focal point of its operations has always been, and remains, Geneva. Today, the company's stylish manufacture is located in the Genevan suburb of Plan-Les-Ouates. Many of the brand's watches are adorned with the Poinçon de Genève, the Geneva Seal. Watches bearing this symbol must adhere to an onerous standard governing the manufacture and finishing of the movement. Moreover, the timekeeping qualities of each watch are rigorously tested in order for it to be awarded COSC certification. For a watch to bear the Geneva Seal it must have been assembled and regulated within the Canton of Geneva.
Vacheron Constantin models have attracted the patronage of Faruk of Egypt, the Shah of Iran and the Duke of Windsor. Interestingly, even Henry Graves Jr, the famous client of Patek Philippe, was a customer of Vacheron Constantin, reaffirming the brand's enviable reputation for producing desirable timepieces.
The Vacheron Constantin collection of the modern era includes simple two-handed dress watches, for both ladies and gentlemen, to the über-complicated Traditionnelle Calibre 2755, combining a tourbillon, perpetual calendar and minute repeater in one sumptuous horological form.
Métier d'Art
A particular area where Vacheron Constantin excel is métier d'art. Time-served artisans imbue watches with delightful flourishes of artistic detail which differentiate the brand's products from the majority of watches available for sale.
Specialities of the maison include open-worked watches, guilloché dials created with a rose-engine lathe, enamelling and, finally, gem-set dials and cases.
Famously, in 2010, Anita Porchet, arguably the finest freelance enameller of the current era, spent three months hand painting a dial created for a unique watch celebrating the 30th anniversary of AROP (the Friends of the Paris Opera). The dial remarkably captures an elaborately painted ceiling within the Paris Opera by Marc Chagall. The grand feu enamel dial is adorned with vibrant hues, minuscule detail and necessitated numerous firings at high temperatures to bestow a permanent brilliance.
Closing Remarks
Vacheron Constantin is a name synonymous with Haute Horlogerie. The maison produces some of the finest watches available today. Within the confines of its modern factory on the outskirts of Geneva, expert finishing and exacting standards are practised by talented artisans. Within a few brief moments of making the acquaintance of a Vacheron Constantin, the quality of its creation can be readily discerned with all elements of its composition distilled to a remarkably high standard. Indeed, many discerning watch buyers believe Vacheron Constantin shares equal status with the likes of Patek Philippe and Audemars Piguet.
Browse Blowers' selection of pre-owned Vacheron Constantin watches online today.