Rolex offers a number of women's watches which carry classic Rolex styling, with an unmistakably feminine twist. Besides the Rolex watches specifically designed for women, there are also a number of Rolex's more traditionally masculine designs which can be pulled off by women to spectacular effect, especially in precious metals.
All Rolex ladies watches come in the same shape as their male counterparts. However, in some cases they are scaled down to suit a smaller wrist. Available in Oystersteel, Oystersteel and gold, and Everose gold, there are Rolex's women's watches to suit all personalities. Their collection extends from practical everyday designs, to ornate jewellery watches, meaning there is a watch for all occasions.
Before we dive in, it's important to note that women have sported a number of Rolex watches besides the five discussed below. It is certainly worth exploring Rolex's wider range, especially if you are attracted to sportier stylings. Nonetheless, the five watches below represent five of the most popular designs amongst women.
So let's take a look at Rolex's most popular women's watches: the Lady-Datejust, the Oyster Perpetual, the Pearlmaster, the Day-Date, and the Cosmograph Daytona.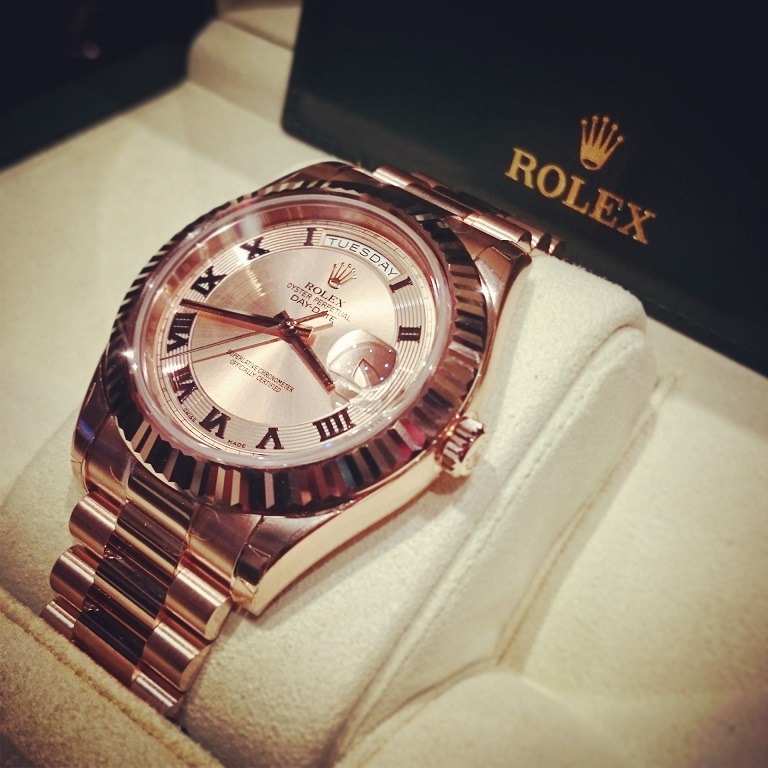 1. Rolex Lady-Datejust
The Rolex Datejust (or Lady-Datejust) is the classic Rolex ladies watch. It comes available in a variety of sizes, with a variety of different dials, and a range of gem adornments. In Oystersteel, white gold, yellow gold, Everose gold, or a combination of these, the Datejust symbolises elegance and timeless style.
The Datejust is distinguished by its unmistakable fluted bezel, and, of course, the date complication with the distinctive Cyclops magnifying lens above it. On some models, the fluted bezel is replaced with a gem-set bezel. It is also available with a simple, smooth bezel. You may choose from a variety of coloured dials, or even a gem-set dial for a truly sumptuous option.
The Lady-Datejust is especially popular with a Rolesor design. Rolesor is the simple yet beautiful concept in which the centre bracelet links, bezel, and winding crown are made of 18ct yellow or Everose gold, while the outer links and case are made from contrasting Oystersteel. The effect is something truly special, and works incredibly well on Lady-Datejust models in particular. Browse our current stock of Rolex Datejust watches.
2. Rolex Oyster Perpetual
The Rolex Oyster Perpetual pays homage to one of Rolex's earliest designs, the original Oyster, and the perpetual self-winding movement that was first developed in 1931. The Oyster Perpetual represents simplicity and elegance. It stands as one of Rolex's all-time classic watches, for both women and men.
Available in a range of sizes from 26mm up to 39mm, you will likely find the perfect size to fit even the slenderest of wrists. The Oyster Perpetual comes always in Oystersteel, and you can select from a beautiful array of coloured dials.
Simply displaying the time, the Oyster Perpetual is as unfussy as a luxury watch can be, offering a simple, practical, and elegant design. With its minimal and uncomplicated style, it's guaranteed to fit in with the most active of lifestyles. While it has many fans amongst sportswomen, it's also perfectly suited for everyday wear at the office. Browse our current stock of Rolex Oyster Perpetual watches.
3. Rolex Pearlmaster
The Rolex Pearlmaster is the definitive Rolex jewellery watch. Available only in the precious metals of 24ct white gold, yellow gold, or Everose gold – forged in Rolex's own foundry – it is set with gems by Rolex's expert gem-setters. An indulgent take on the classic Rolex Oyster, the Pearlmaster is an unmistakable symbol of luxury and style.
A testament to Rolex's dedication to quality, the brand employs both gemmologists and gem-setters to ensure the selection and setting of only the highest quality gemstones in their watches. The gemmologists are responsible for examining and selecting gemstones to ensure they meet Rolex's quality standards. The gem-setters then undertake the highly-skilled and delicate task of fixing each stone in such a way that best reveals its beauty.
Invariably set with the finest gemstones, the enchanting Pearlmaster stands as one of Rolex's most opulent collections. Browse our current stock of Rolex Pearlmaster watches.
4. Rolex Day-Date
The Rolex Day-Date, also known as the 'President' watch, is the classic prestige watch from Rolex. Once famously gifted to John F. Kennedy by Marilyn Monroe, the Day-Date has been the watch of choice for powerful and influential people all over the world. Fitting its status, the Day-Date is only available in precious metals: platinum, white gold, yellow gold, or Everose gold.
The Day-Date takes its name straightforwardly from its function, displaying the day of the week at 12, and the date at 3. On the other hand, the watch's nickname – the 'President' watch – has several possible origins. Some say that the name derives simply from the bracelet, which Rolex named the 'President bracelet.' However, it's well-known that the President bracelet appears on a number of Rolex watches, and not just Day-Date. Accordingly, since the nickname clearly befits the watch's prestigious status, and has indeed been worn by a number of Presidents, many wearers infer an altogether much nobler explanation for the nickname.
Available in 36mm or 40mm, with optional inset gems, many women have found the particularly becoming in yellow gold or Everose gold. The watch carries a 'wow' factor like no other. Browse our current stock of Rolex Day-Date watches.
5. Rolex Daytona
Elevated to legendary status by the Hollywood icon and racing enthusiast Paul Newman, the Rolex Daytona is instantly recognisable. First released in 1963 to meet the demands of professional racing drivers, the Daytona takes its name from the famous Florida racecourse. Its chronometer function has been developed to offer impeccable precision.
Fitted with a tachymetric scale and three counters and pushers, the Daytona is designed to measure elapsed time and calculate average speeds. At the same time, despite being a highly function professional sports watch, the Daytona offers supremely elegant design. Measuring 40mm in diameter, it's available in Oystersteel, Oystersteel and yellow gold, Everose gold, white gold, yellow gold, or platinum.
It's interesting to note that the most expensive Rolex ever sold was a Daytona. The watch was Paul Newman's own Cosmograph Daytona, which he wore every day for 15 years before gifting it to his daughter's then-boyfriend in 1984. The watch sold for some £13.5m in 2017. Browse our current stock of Rolex Daytona watches.
Rolex Ladies Watches: Find Your Desired Timepiece
Blowers stock a wide range of Rolex watches. All watches on our website are physically in stock, and can be viewed at our Kingston upon Hull boutique, or by appointment, at our London office in Mayfair. With all our watches physically in stock and available with 0% finance, you can walk away wearing a Rolex from Blowers almost as soon as you've chosen it.
Looking for a specific watch that's not on our site? Get in touch and we will endeavour to source it for you.