There's a reason why Rolex watches cost as much as they do. Expertly designed, and manufactured from the highest quality materials, these watches are built to function perfectly, to look amazing, and to last for decades. If you look after it, your Rolex will stay with you for life. Oftentimes, you can even pass it on to the next generation.
The good news is that although the bar for entry into the world of Rolex ownership is high, the price of different models varies quite considerably. And if you know what to look for, you can own a great Rolex watch for less.
This guide looks at the reasons why some Rolex watches are cheaper than others, and then introduces five models that you will want to consider.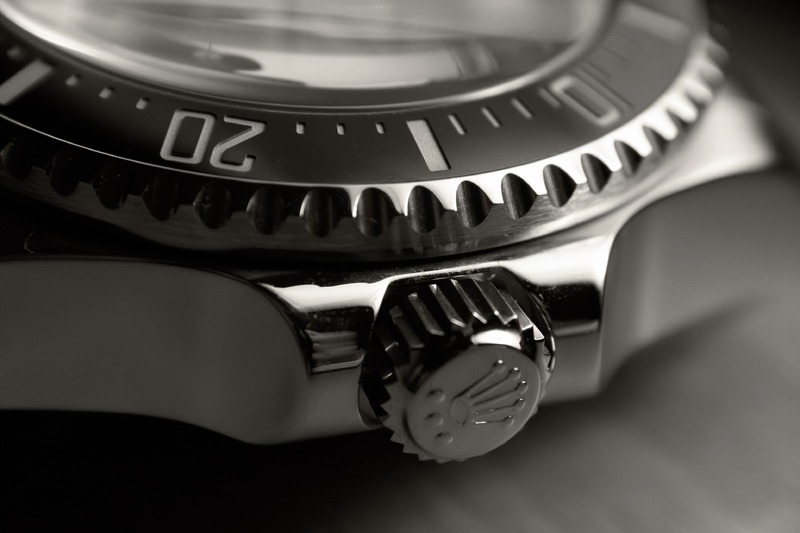 Why are Some Rolex Watches Cheaper?
There are a number of factors that determine the price of a Rolex watch. This means that if you're highly selective about which model you want, then you might to have pay extra. But if you just want to own a Rolex and you're flexible about the details, then there are several great options. In fact, some of the most popular Rolex models are also the cheapest.
The key factors that determine a Rolex's price are materials, size, complications, scarcity, and condition. Let's look a little closer at these different reasons.
Material
The material that a Rolex watch is made from is a big factor in its price. Depending on the collection, Rolex watches can come in steel, steel and gold, rose gold, yellow gold, or platinum. Rolex's 904L steel alloy, known as Oystersteel, is a highly resilient material that offers incredible longevity, and looks fantastic. Nonetheless, it's significantly cheaper than the precious metals that Rolex offers, and many of Rolex's most popular models are steel.
Size
This one's pretty simple. The size of your watch determines the amount of material that is needed. That means that smaller watches work out a little cheaper. There is a trend at present for slightly chunkier watches, so if you're hoping to get on that then, unfortunately, you might have to pay a little more. However, if you're happy with something a bit more subtle on the wrist, then a smaller sized Rolex is a great way to keep the cost down.
Complications
One thing all the cheaper Rolex watches have in common is their simplicity. If you look at the selection below, you'll notice a distinct lack of dates, chronographs, and other frills. Complications involve delicate manufacturing, and massive technical prowess to deliver. The price tag always reflects this. If you're willing to forgo these fancy – albeit useful – features, you can often knock a couple of grand off the price tag on your Rolex.
Scarcity
Rare Rolex watches are more expensive, and more common models are cheaper. The less of a specific model in circulation, the higher the price tag. Avid Rolex aficionados will pay a premium just to know that are in possession of a rare piece. But many Rolex wearers simply don't care! If you're looking to buy your first Rolex, then it's important to know about this. There's no point forking out for a rare Rolex if you're just looking for an entry level piece.
Condition
A Rolex watch in poor condition will always be cheaper. This is no surprise. Unless we're talking about Paul Newman's personal Rolex Daytona, few people want a luxury watch that's totally battered. Although the materials that Rolex watches are made from means they are resistant to scratches, not even Rolex can argue with the laws of physics that make a certain amount of wear and tear inevitable. Condition, therefore, becomes a key factor in the pre-owned market.
The 5 Cheapest Rolex Models
We've looked at some of the reasons why some Rolex watches might be cheaper than others. Now let's dive in and see what these models have to offer, and what sort of price tag you'll be looking at.
Rolex Oyster Perpetual | Cost (new from Rolex): £4,100 (36mm)
The Rolex Oyster Perpetual has become a signature Rolex piece since the release of the original Oyster in 1926. Hardly changing over the years, its classic design has proven timeless. With its famous Rolex perpetual self-winding movement, and simple, legible display, the Oyster Perpetual offers uncompromised functionality and style. The Oyster Perpetual is available in a wide range of sizes from a dainty 26mm up to 39mm.
Rolex first developed the perpetual self-winding movement in 1931. Utilising the kinetic energy generated by the everyday activity of the wearer, self-winding movements remove the need for winding, making the watch highly practical. In terms of reliability and functionality, Rolex's perpetual movement stands to this day as an industry-leading example of a self-winding mechanism.
The simple, restrained design of the Rolex Oyster Perpetual reduces the cost of manufacturing. The cost is further lowered by the fact that the Oyster Perpetual is smaller than most others – available with a width of 26, 31, 34, 36, or 39mm. Naturally, the smaller ones are cheaper. Despite being the least expensive Rolex watch, the Oyster Perpetual undoubtedly remains an elegant and timeless classic. Browse our stock of Rolex Oyster Perpetual watches.
Rolex Air-King | Cost (new from Rolex): £4,750 (40mm)
The Rolex Air-King is a watch with a remarkable history. Released in 1945, Rolex Air-King watches were presented to the pilots who fought in the Battle of Britain. Over the years, the Air-King has also become known the "pilot's gift," offered to retiring pilots by airline companies. Its simple design makes for maximum legibility in the cockpit, and its heritage marks it out as one of the all-time classic pilots watches.
The Air-King pays homage to Rolex's relationship with aviation which dates back to the 1930s. During this period, earlier incarnations such as the Rolex Oyster accompanied ground-breaking expeditions including the first flight over Mount Everest in 1933. Besides the Air-King's distinguished story, the simplicity and purity of its design have made it popular with a wider market of watch lovers.
For most pilot watches, legibility is the key feature. The Air-King achieves through a combination of the black dial and highly visible Chromalight display with long-lasting blue luminescence. Eschewing complications and unnecessary clutter on the face of the dial, a happy side effect of the Air-King's focused design is the reduced production costs, which is reflected by the price tag. Browse our stock of Rolex Air-King watches.
Rolex Explorer | Cost (new from Rolex): £5,000 (39mm)
Designed for optimum precision, functionality, and reliability, the Rolex Explorer is another Rolex watch with an amazing heritage. A Rolex Explorer was worn by Tenzing Norgay who, along with Edmund Hillary, was the first person to reach the summit of Mount Everest in 1953. This powerful story, combined with the functionality offered by the self-winding perpetual movement and Chromalight display, have made the Rolex Explorer the watch of choice for mountaineers and explorers ever since.
Built to withstand extreme conditions from polar environments, to mountains, to caves, the Rolex Explorer has served some the bravest and most daring in the farthest-flung corners of the world. To a wider base of watch lovers, it has come to represent adventure, discovery, and adrenaline.
Designed to be used in harsh conditions, the Rolex Explorer has several resounding qualities. It's tough, reliable, and highly legible – and every aspect of its stoic design revolves around these attributes. Happily, the lack of frills keeps production costs relatively low. If you're looking for a watch to keep up with an adventurer's lifestyle, then look no further. Browse our stock of Rolex Explorer watches.
Rolex Submariner (No Date) | Cost (new from Rolex): £5,750 (40mm)
Arguably the most recognisable and most desired of all Rolex watches is the Submariner. It's iconic design, incredible water resistance, and unmistakable functional bezel have seen it become the reference point for all divers watches. Although many Submariners today show the date, the Submariner is also available without a date complication. And let's face it – who needs to know the date when they're diving 300 metres deep beneath the waves?
A symbol of the conquest of the ocean, the Submariner no-date is amply equipped for the needs of professional divers. The unidirectional bezel allows divers to monitor diving time and decompression stops, and is designed to offer grip under water, even through gloves. The perpetual self-winding movement removes any concerns about winding, and Rolex's rigorous testing process provides you with the assurance that your Submariner can be trusted even in the harshest of underwater conditions.
Considering its desirability, it's hard to believe that a Submariner can be amongst Rolex's less expensive watches. This said, features such as the Cerachrom bezel clearly contribute to the production cost, making the Submariner a small step-up in cost from the more minimal Oyster Perpetual, Air-King, and Explorer. Submariners also happen to be amongst the best Rolex watches for investment – in case that's important to you – generally retaining their value remarkably well. Browse our stock of Rolex Submariner watches.
Rolex Milgauss | Cost (new from Rolex): £6,300 (40mm)
The Rolex Milgauss was designed for scientists and engineers, but has earned a wide variety of admirers thanks to its distinctive design – which includes an orange electric bolt second hand, and a green-tinted sapphire crystal. Boasting magnetic resistance of up to 1,000 gauss, the Milgauss meets the needs of scientists working on some of the most ground-breaking particle physics research at the European Organization for Nuclear Research (CERN).
Scientists and engineers are regularly exposed to magnetic fields which interfere with the mechanics of most watches, preventing them from keeping time accurately. For these professionals, for whom precision is everything, this was clearly not acceptable. Thus to meet the demands of scientists and engineers, Rolex developed the Milgauss in 1956. The watch's exceptional resistance to magnetic fields comes thanks to the ferromagnetic alloys used inside the Oyster case.
The Rolex Milgauss just about makes it into the cheapest five Rolex watches, but as you can see from the price tag, we're getting into the territory of specialised features, which does come at a price. Browse our stock of Rolex Milgauss watches.
Pre-Owned Rolex Watches With 0% Finance
Getting a cheaper Rolex doesn't necessarily mean you have to compromise. Some of the most popular Rolex models are amongst the most affordable. Not everyone cares about precious metals, complications, and rare watches. This means that the average Rolex buyer can often pay less than expected and still get exactly the watch they are looking for.
Additionally, buying pre-owned allows you to choose from a wide selection of models that are available today, and often for less. With 0% finance from Blowers, it's even easier to make that Rolex yours.
Buy online, or try any of our watches on at our Kingston upon Hull boutique, or by appointment, at our London office in Mayfair.
Please note that the RRP set by Rolex as outlined above is accurate at the time of publication, but subject to change.