There are a number of OMEGA watches James Bond has worn over the years. In fact, it has been over two decades since Bond swapped Rolex for OMEGA as his watch brand of choice. From the sophistication of Pierce Brosnan to the gritty realism of Daniel Craig, the modern generation of Bond fans associate the character with only one watch brand, OMEGA.
The Swiss brand has been showcased as the ultimate accessory for the most famous spy in the world in no less than eight films between 1995 and 2022. Join us as we delve into the rich history of James Bond's greatest wristwatches of the modern era, exploring the timepieces that have graced the screen on the wrist of one of the most famous fictional characters on the planet.
When Did James Bond Start Wearing OMEGA?
The iconic character of James Bond has been synonymous with OMEGA for over 25 years. Ever since Pierce Brosnan's Goldeneye in 1995, and throughout the entire tenure of Daniel Craig as the titular spy, James Bond has exclusively worn OMEGA watches on screen.
Prior to 1995, the fictional MI6 agent had a close association with a different luxury watch brand, Rolex. The James Bond series began back in 1962 with "Dr. No" starring Sean Connery. From the very start, Bond wore a Rolex watch, most often a Rolex Submariner to be precise.
This association with Rolex was designed to convey sophistication and elegance. Additionally, the Submariner, as the most associated timepiece with the spy, was ideal due its durability and water-resistant capabilities.
While this Swiss brand is the one most closely associated with the pre-OMEGA Bond, there were actually other watches worn on screen by 007, including models by:
Gruen: Gruen was worn on multiple occasions by Sean Connery in Dr. No, You Only Live Twice, and Diamonds Are Forever.
Breitling: Breitling only featured in Bond once, in Sean Connery's Thunderball.
Tag Heuer: Tag Heuer watches featured in Timothy Dalton's The Living Daylights, and On Her Majesty's Secret Service starring George Lazenby.
Seiko: Five films between 1977 and 1985. Bond wore Seiko throughout the Roger Moore era.
Despite other brand's being featured, Rolex was the watch of choice for Bond for over 30 years. However, as the brand evolved, so did the spy's favourite timepiece.
What OMEGA Watch Does James Bond Wear?
James Bond is not synonymous with only one OMEGA watch. The character has worn a number of different timepieces from the Swiss luxury watchmakers in several films. Most prominently, the OMEGA Seamaster has, in recent years, become a core part of the presentation of James Bond.
Examples of OMEGA Watches James Bond has worn over the years include: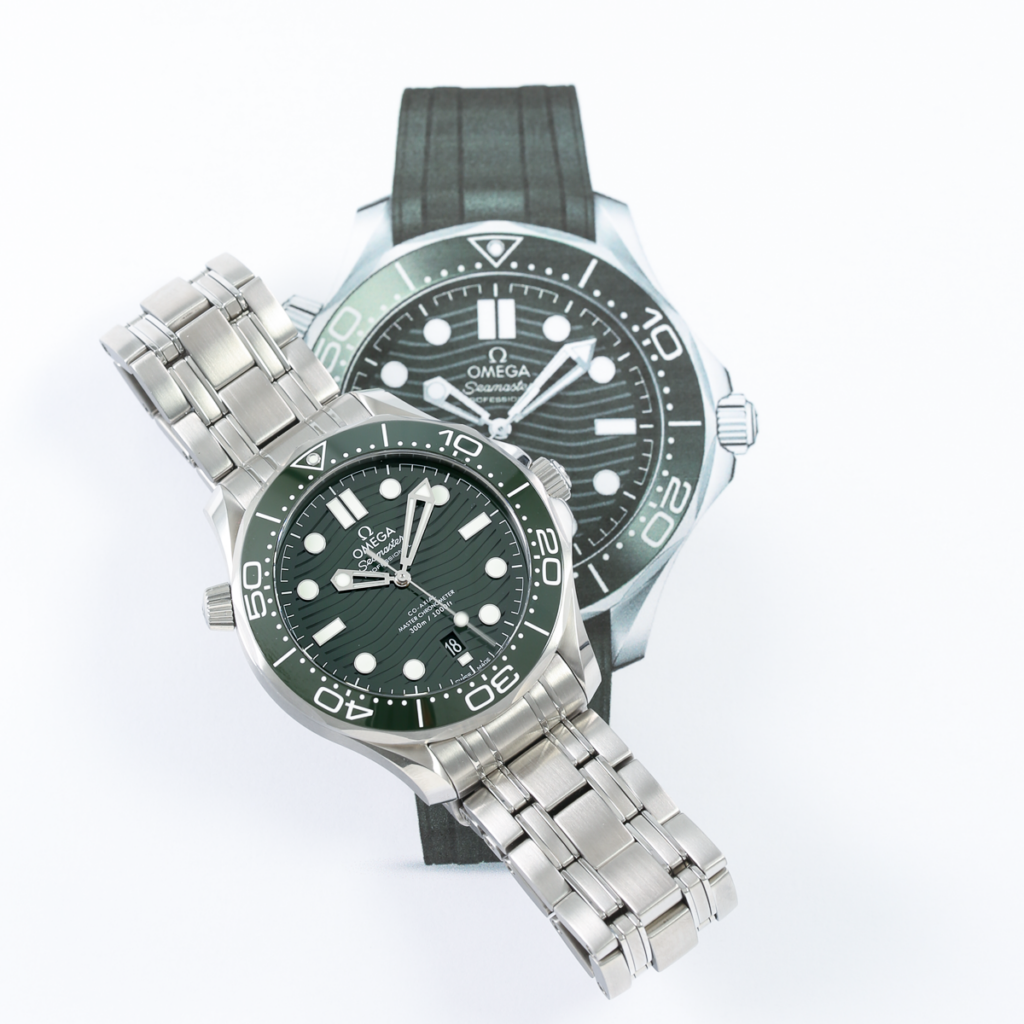 OMEGA Seamaster Professional 300M Ref. 2541.80: GoldenEye (1995)
In 1995, James Bond was reintroduced for a modern audience with Pierce Brosnan taking up the lead role. However, the film marked the debut for the franchise for more than just the Irish actor. GoldenEye also introduced OMEGA as the franchise's primary and official watch partner.
The OMEGA Seamaster Professional 300m Ref. 2541.80 quartz dive watch, or the 'GoldenEye Watch' as it is known to some, contains a stainless steel frame with a blue wave-pattern dial and was water-resistance up to 300 metres (1000 feet).
OMEGA Seamaster Professional 300M Ref. 2531.80: Tomorrow Never Dies (1997), The World is Not Enough (1999), Die Another Day (2002)
In 1997 Pierce Brosnan's Bond returned, with a new OMEGA Seamaster, the Ref. 2531.80, an automatic chronometre version of the iconic and beloved Seamaster.
While the watch in the 1997 film contained a hand grenade included, the real Ref. 2351.80 contained quartz movements and, similarly to the watch from GoldenEye, was water-resistant to 300 metres.
This Seamaster model was so successful that it remained with Bond for the next two movies (in 1999 and 2002). These models featured the same dial and design details as the watch worn in GoldenEye in 1995, the 2531.80 is a self-winding chronometer with a rhodium-plated finish.
OMEGA Seamaster Professional 300M Ref. 2220.80.00: Casino Royale (2006)
By 2006, there was a brand new Bond. When Daniel Craig stepped into the mantle, the series took on a more serious tone. To mark the start of this new era, Bond actually wore two OMEGA watches.
The opening of the film sees a Seamaster Planet Ocean Chronometer Ref. 2900.50.91 worn. However, for the remainder of the film the spy wears an automatic Seamaster Professional, the ref. 2220.80.00. This high performance watch is powered by the Co-Axial Calibre 2500, as well as containing a 48-hour reserve.
OMEGA Seamaster Planet Ocean Ref. 2201.50.00: Quantum of Solace (2008)
Not often seen at the top of Bond fans list of best films in the franchise, this mostly unmemorable second outing for Daniel Craig did at least feature an unforgettable timepiece.
Smaller and sleeker than its counterpart from Casino Royale, this piece came equipped with water resistance up to 600 metres as well as a scratch-resistant, anti-reflective sapphire crystal.
OMEGA Seamaster Planet Ocean Ref. 232.30.42.21.01.001: Skyfall (2012)
Skyfall, one of the highest rated films in the spy franchise, contains not one, but two much-loved OMEGA watches during its runtime.
The first, was the OMEGA Seamaster Planet Ocean 600M Ref. 232.30.42.21.01.001. This 42mm steel watch contained a black dial and bezel, as well as the same features as the Planet Ocean models from the two previous films.
However, the difference comes in the OMEGA Co-Axial calibre 8500 — a significant upgrade from the previous modes.
In the film, Daniel Craig also switches to an OMEGA Seamaster Aqua Terra 150M Ref. 231.10.42.21.03.003. The lacquered dial of this watch is meant to invoke the wooden decks of a luxury sailboat.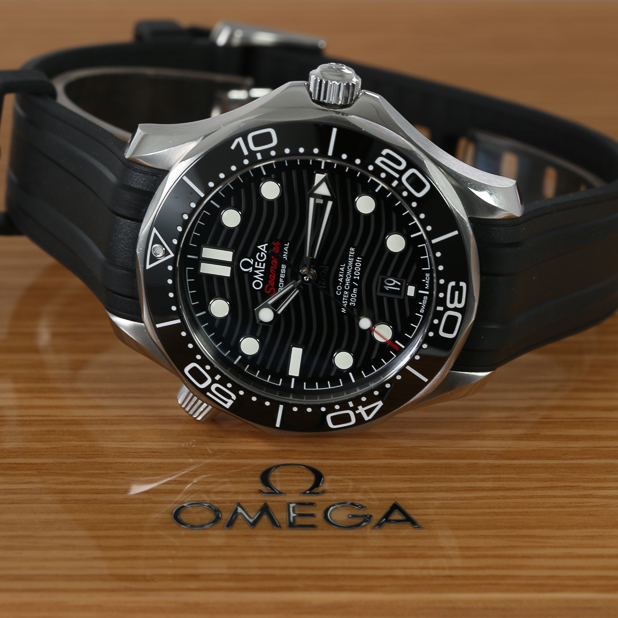 OMEGA Seamaster 300 Ref. 233.32.41.21.01.001: Spectre (2015)
In this 2015 outing, Daniel Craig's Bond receives his first OMEGA Seamaster released exclusively for the film. The Seamaster 300 Ref. 233.32.41.21.01.001, an updated interpretation of the original 1957 Seamaster 300 model, has a 41mm stainless steel-case and NATO strap.
Its unique features include a black ceramic bi-directional bezel ring, a 12 hour liquidmetal scale, and more.
In Spectre, Bond also wears an Aqua Terra model, but the Ref. 233.32.41.21.01.001 is the watch most synonymous with this instalment in the series. This was proven when OMEGA released a Limited Edition "Spectre" Seamaster 3 model for watch lovers and Bond fans alike.
OMEGA Seamaster 300 Series 007 Edition: No Time to Die (2022)
To mark the very last film in the Daniel Craig era of Bond, and the final Bond film released as of this blog's publishing, OMEGA released a special OMEGA Seamaster 300 Series 007 Edition watch to coincide with the film's release.
A lightweight watch, the 007 Edition 300 Series was created with close consultation between the Swiss watchmakers and Daniel Craig himself. The English actor's input is said to have had a large impact on the watch's final design.
This variation of the 300M Seamaster comes in a titanium case, with in-house Calibre 8806 movements. The understated black dial pairs nicely with an eye-catching faux patina lume and a utilitarian mesh bracelet. With 007 branding adorning the dial, this watch proved a much-beloved way to put a bow on Daniel Craig's time as the famous spy.
OMEGA and Bond: Style and Sophistication
While the character of James Bond has been closely associated with a number of brands over the last 60+ years, The OMEGA partnership is, in the modern era, as synonymous with the character as Aston Martin cars, sharp suits, and martinis (shaken not stirred).
This partnership has been wildly successful and stands as a testament to the enduring appeal of luxury watches and fine watchmaking. Thanks to their association with the fictional MI6 agent, many of the watches highlighted in this blog, including the Seamaster Planet Ocean, and Seamaster Professional, have become highly sought-after amongst film fans and watch-lovers alike.
With each new film released, the legacy of James Bond endures, leaving an unquestionable and indelible mark on the luxury watch industry.
As we eagerly await the next instalment in the James Bond franchise, we all find ourselves wondering, what watches will Bond wear, and who will be wearing them? Only time will tell. But what we can be sure of is that whatever watch features on screen, it will stand as a symbol of style, sophistication, and adventure for decades.
If you have been inspired by Bond to add a timeless OMEGA timepiece to your collection, you're in the right place. Our team of experts have decades of experience pairing people with their ideal timepiece.
We have a range of OMEGA's, including Bond's own favourites, Seamasters and beyond. So whether you want to add an OMEGA Constellation to your collection, you've been keeping an eye out for a stunning OMEGA Speedmaster, or have been dreaming of trying an OMEGA Railmaster on for size, get in touch today to find out more.