In the world of luxury watch collecting, Rolex stands as a timeless emblem of precision, master craftsmanship, and iconic and enduring elegance. For watch lovers and collectors alike, the allure of the brand is often unrivalled.
However, many collectors may find the market for vintage and rare Rolex watches intimidating. It is a vast and often highly competitive market. With so many models and styles to consider, it's vital that you understand just what you need to look out for.
The price of a Rolex watch, let alone a rare one, ensures that anybody looking to purchase one to add to their collection should first do ample research to ensure it is indeed the timepiece for them. Working out which rare Rolex watches you are interested in before you start searching can help you better focus your attention and may help you to spot a great deal.
What Makes a Rolex Rare?
Rare Rolex watches can be characterised by a number of potential factors that make the particular model stand out as unique or particularly sought after by collectors and enthusiasts alike. This can include a limited production run, the age of the watch, its historical significance, and even its popularity.
Sourcing a rare Rolex to add to your collection is a goal for many enthusiasts. However, it's important to note the distinction between rare and valuable. Factors such as authenticity, condition, and provenance play just as much of a role in the overall value of a Rolex watch on the market than its rarity.
Factors that make a Rolex rare include:
Limited Production: Rolex produces 800,000-1,000,000 watches per year. Some of these releases are made in more limited quantities than others. Watches with a low production upon release will often go on to be considered rare.
The Age: As the years pass, older Rolex watches will become lost or irreparable. Therefore, any vintage Rolexes, especially those from the early 20th Century, have become highly coveted due to their scarcity on the market.
Iconic Status: Some watch models are more iconic than others. This can be as a result of their fanbase, or if they are associated with historical events or famous people.
Unique Features: Not all Rolexes are built the same. Some are released with unique features that are not present on many more watches. This can include exotic dials, and even utilising rare materials like meteorite.
Anomalous Aspects: Watches with unique/unusual serial numbers, or errors/anomalies from their production can become highly sought after by collectors because of their one of one status.
Popularity: As with all markets, sometimes the rarity of a Rolex model can be driven by its popularity. If models are sought after and bought out by collectors, they become more scarce on the market and therefore likely fetch a higher price.
Special Series: A special series of limited edition watches released by Rolex will typically be produced in highly limited quantities. This makes them much rarer, and therefore more sought after.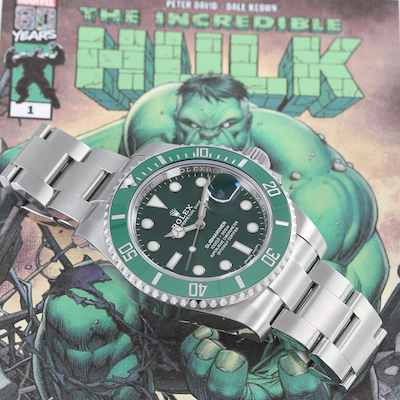 What Are The Top Rare Rolex Watches to Look Out For?
If you're looking at prestige and name-value, no watch brand on Earth can compete with the Rolex brand. While all timepieces from this iconic Swiss company are special, many collectors consider vintage and rare Rolex watches to be that bit more attractive.
From the iconic Daytona "Paul Newman", to the "Pepsi", Rolex Date, and beyond, there's a luxury rare Rolex ideal for any collection.
Whether you're an aspiring watch collector carefully considering your options or you're looking for an ideal piece to add to your collection, a few of the best rare Rolex watches to look out for include:
Rolex Daytona "Paul Newman"
One of the most iconic and collectible vintage Rolexes in history. The Rolex Daytona "Paul Newman" is celebrated both for its unique dial design, and its association with the iconic American actor Paul Newman.
In fact, Paul Newman's very own "Paul Newman" sold at auction for over $17 million back in 2017, breaking the world record amount paid for a watch. While the price of this particular watch is due to its personal association with Paul Newman himself as well as the Newman family, it acts as evidence of just how beloved this model of watch is to many collectors.
The most distinctive feature of the Rolex Daytona "Paul Newman" is its iconic dial design. Characterised by art deco-styled numbering, unique sundial fonts, and highly distinctive colouring (different models will have varying colouring)
The "Paul Newman" nickname is not limited to only a single Daytona model. They are available on various references, including the 6239, 6241, 6262, and more. Among the various watches bearing this distinctive dial, it is the ref. 6239 and ref. 6241 which are considered the rarest and most sought after by collectors.
Ultimately, the rarity of these watches, combined with their aesthetic, uniqueness, and ionic status has marked them, for many, as the ultimate holy grail or rare Rolex watches.
Rolex GMT-Master II "Pepsi" Ref. 16710
The uniqueness and scarcity of this model in the Rolex GMT-Master II series is highly sought after. It is notable for not only its distinctive red and blue "Pepsi" bezel, but also for the fact that this particular aluminium model was discontinued in favour of ceramic models.
The red portion of the Ref. 16710's bezel indicates the daytime hours, while the blue represents night time. This colour combination stands out amongst the rest of the Rolex catalogue. And its highly distinctive colouring, which bears a striking resemblance to the Pepsi logo, lead to it receiving its nickname.
Rolex DateJust
One of the most recognisable Rolex creations. The Rolex Datejust was first released in 1945 and is still being released today.
The Datejust has been dubbed by many to be the archetype of the modern watch. This lofty status has cemented it as a staple in the collections of people of all walks of life — from collectors and watch lovers, to world leaders and sports stars.
Its longevity means that there are countless configurations of Datejust, making it difficult to pick just one to add to your collection. However, for people looking to start a collection of iconic luxury watches, a Datejust is an excellent place to look.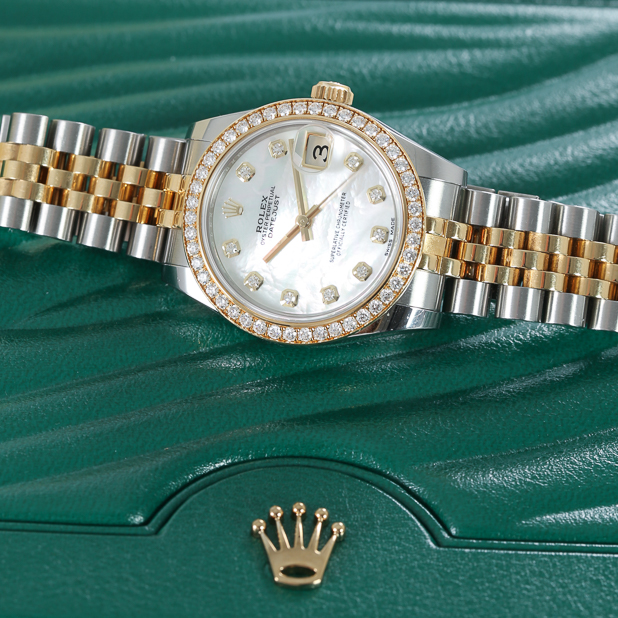 Rolex Oyster Perpetual Date (Rolex Date)
The Rolex Date was a mainstay in the iconic brand's catalogue from its original release in the '50s, right through to 2021. During this 60+ year period, several Perpetual Date variants were released, in differing styles. But one thing remained consistent, the date window at 3 o'clock, as well as the Cyclops magnifier directly above it.
As a slightly smaller sized watch, the Rolex Date is ideal for both men and women. It also comes in a variety of colours, bezel types, and bracelets. This allows you excellent options to choose from to find the ideal Rolex Date for you.
Rolex Submariner Ref. 16800
One of the most well-known and successful dive watches ever created, the Submariner is much-loved amongst watch enthusiasts and collectors. Among the numerous Submariner models on the market, the Ref. 16800 is likely the most collectable.
The Ref. 16800 was the first Submariner to feature a sapphire crystal, unidirectional bezel, increased depth rating (300 metres), and a quickset data complication.
The Ref. 16800, and many other Submariner models are considered excellent investment models, often fetching good value when sold.
Find the Ideal Rare Rolex Watches for Your Collection at Blowers Jewellers
The market for rare Rolex watches is brimming with exceptional works of art that would be perfect additions to your collection. Not only are many of these timepieces excellent investment opportunities, but they are nods to the past and signs of innovation.
Regardless of if you're in the market for an iconic Rolex Oyster Perpetual, a Sea Dweller, Sky Dweller model, are in the market for a Daytona, or any other timeless Rolex models, you're in the perfect place.
The Blowers Jewellers' team of luxury second-hand watch specialists are perfectly placed to help pair you with the perfect timepiece for you. We stock models from a wide variety of the most iconic names in watchmaking, including Rolex, Audemars Piguet, Patek Philippe, Panerai, and more. Get in touch today to find out more.