From humble beginnings in the 19th Century, to firmly establishing itself as one of the top names in luxury watchmaking in the 21st. There are a number of noteworthy moments, iconic releases, and rare Omega watches in the brand's history.
This history, these moments, and the brand's catalogue of memorable and often exclusive releases are what has often drawn appreciators of fine watchmaking to Omega.
Some rare Omega watches are so sought after that they are almost impossible to find on the market.
In this blog, we'll outline a handful of rare Omega watches that you may want to keep an eye out for. These iconic, and often highly exclusive releases would be excellent additions to anybody's collection.
Omega Watch History: 1848-2023
Before it adopted the now world famous Omega branding, back in 1848 at only 23 years of age, Louis Brandt opened up a watch workshop in the Swiss Village of La Chaux-de-Fonds.
The company was formed under the name Le Generale Watch Co., with a core vision to offer highly accurate, highly practical timepieces. Upon his death in 1879, the company was passed on to his two sons Louis-Paul and Césa, who subsequently moved the workshop to Biel/Bienne — where it still resides to this very day.
In the years that followed, they continued to innovate, following the vision laid out by their father, expanding into new markets. The company pioneered the creation of wristwatches with minute-repeater functions in 1892.
In 1894, the founders worked to develop their very own in-house manufacturing and production control techniques that allowed for totally interchangeable components. All watches created in this way were released under the Omega brand name, as part of La Generale Watch Co.. Just under ten years later, due to the success of the Omega branding, Omega became its own entity in 1903.
One of the most significant moments in the history of Omega was when it was named the official timekeeper of the Los Angeles Olympic Games 1932. This marked the beginning of the brand's close ties to the sporting world, and particularly sports timekeeping.
Perhaps the most well-known and iconic collection in Omega watch history is the Speedmaster. Introduced back in 1957, the Speedmaster Professional gained global fame when it was selected as the official watch for astronauts on space missions by NASA. In fact, since 1965, the Omega Speedmaster has been worn on every single NASA manned mission — including all six moon landings.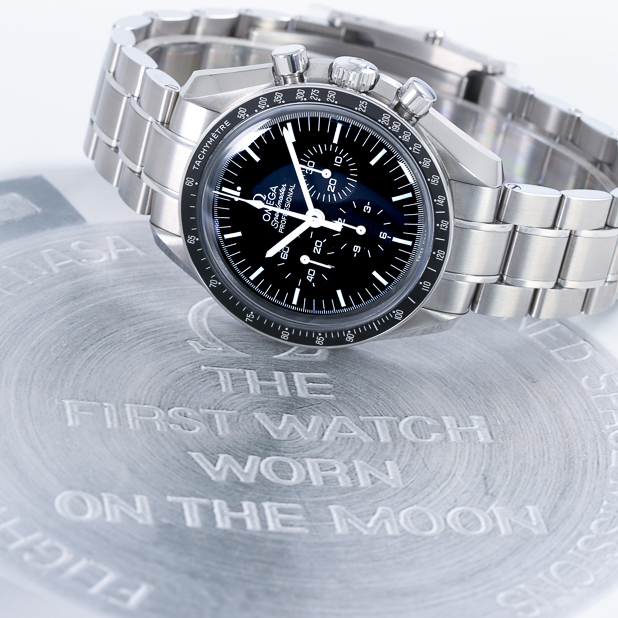 In recent years, Omega has continued to innovate and has produced a wide array of successful and highly popular watches. But what Omega is perhaps best known for today, is its associate with the iconic James Bond. This relationship has helped establish Omega as one of the most esteemed, desired, and recognised luxury watch brands in the entire world.
Rare Vintage Omega Watches
There are a number of rare, vintage Omega watches you may want to keep an eye out on to add to your collection. This includes a number of rare Omega seamaster watches and iconic Omega speedmaster models. 
Notable rare Omega watches include:
Rare Omega Speedmaster Watches
There are very few watch models with a more iconic status in the industry than the Omega Speedmaster. The historic legacy of these watches was confirmed when one was the very first watch worn on the moon, on the wrist of Neil Armstrong. 
The Omega Speedmaster watches have been ideal collectors pieces for decades, with a hugely dedicated fanbase. Rare Omega Speedmaster watches to keep an eye out for include:
Omega Speedmaster Moonwatch Apollo XVII Anniversary Edition: The Moonwatch Apollo was released to commemorate the 40th anniversary of the final lunar mission in 1972. With only 1,972 pieces ever released, this eye-catching timepiece can be difficult to track down.
The "Ed White": Similar in design in many ways to "the Moonwatch", the "Ed White" gets its name from NASA astronaut Ed White who wore it during history's first ever spacewalk. It only had a limited run between 1964-1969, making it very tough to get your hands on.
Omega Speedy Tuesday Ultraman: Released in 2018, this Omega release is much newer than the two above. However, with a production run of only 2,012 pieces, it is by no means any easier to find.
Rare Omega Seamaster Watches
A firm favourite among watch collectors, the Omega Seamaster is, as the name suggests, extremely popular among sailors, divers, surfers, etc. Omega Seamaster watches are designed with two things in mind — style, and durability — making them ideal for all walks of life. 
A handful of rare Omega Seamaster watches you may want to look out for include:
James Bond 60th Anniversary: Launched in 2022 to commemorate 60 years of James Bond, this watch was inspired by the Seamaster Diver 300m worn by the character in 1995's Goldeneye. This release proved extremely popular with watch lovers and fans of the iconic series alike.
Seamaster Olympic Official Timekeeper: As official timekeepers of the Olympic Games, the Seamaster Official Timekeeper was released as both part of a highly limited edition (100 released) set of five stainless steel watches all bearing the colours of the Olympic rings. A complete set of these boxes can be compared to "gold dust" on the open market.
Omega Seamaster 300 Spectre: Another James Bond themed timepiece. "The Spectre" was released alongside the film of the same name in 2015 with only 7,007 pieces ever released. With a number of unique features, this release proved exceptionally popular. Any Seamaster 300 Spectre released on the market is highly coveted by collectors.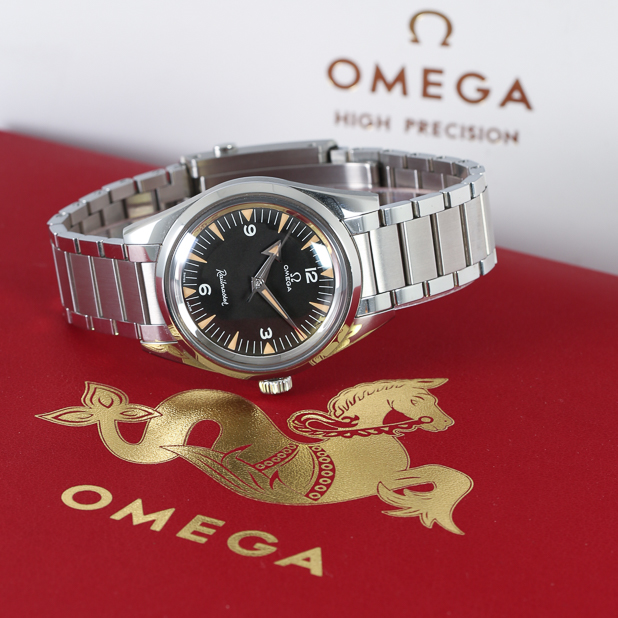 Other Rare Omega Watches
If you're seeking out rare Omega watches, it can be hugely beneficial to look for models of the brand's most popular models, Seamaster and Speedmasters. However, there are some other rare Omega watches that would sit proudly in anybody's collection.
These specialities include:
125th Anniversary Pocket Watches: Released to mark the 125th anniversary of the OMEGA name. This pocket watch, made of 18K gold also contains a special 125th anniversary logo on the interior of the rear cover in red enamel.
Olympic Pocket Watch 1932: Released as part of a limited edition run of only 100 pieces, this watch is powered by unassembled movement kits rediscovered in storage at OMEGA's Biel headquarters after decades.
Find Your Ideal Rare Omega Watch at Blowers Jewellers
Omega's meteoric rise from humble beginnings in 1848, to its modern day status as an industry leader, the Swiss brand's consistent commitment to precision, innovation, and elegance has helped it truly stand out.
The legacy of company founder Louis Brandt lives on to this day in the wide catalogue of innovative and rare Omega watches new and old that are cherished by collectors and watch aficionados.
From the heights of space exploration, to the very deepest depths of the ocean, Omega watches have been there to witness history. The rare Omega watches in this article embody this rarified air — they provide you with an opportunity to own an exclusive piece of history.
Whether it's the iconic Speedmaster line, the versatile and much-loved Seamaster models, or the Railmaster and Constellation collections, Blowers Jewellers are on hand to help you embody this exclusivity and excellence. 
The team at Blowers Jewellers have years of experience pairing watch lovers with their ideal timepieces, so whether you're after a rare Omega watch, that Rolex you've been keeping your eye on, or a Patek Philippe you've been dreaming about for years, you're in the right place. Get in touch today.