Patek Philippe stands out among the brand's peers as one of the most innovative and respected watchmakers in history. One of the most prestigious and highly vaunted watchmakers in the world, Patek Philippe is a proud company that can be traced back to the 19th Century.
This iconic brand has maintained an ardent fan base virtually ever since. Currently, Patek Philippe has eight collections available to purchase and while all of them can offer excellent investment opportunities, some do shine brighter than others when it comes to investment and potential to appreciate in value.
In our Patek Philippe investment guide we will discuss the history of Patek Philippe, the movements that make the brand famous, how well they hold value, as well as recommend a few collections that we feel have the most investment potential.
A Brief History of Patek Philippe
The history of Patek Philippe can be traced back to Paris. The two men who would go on to found Patek Philippe, Jean Adrian Philippe and Antoni Norbert Patek, were watchmakers from Northern France and Poland respectively. The men were introduced at the 1844 French Industrial Exposition and only a year later would come together to form a new partnership.
Patek Philippe, or Patek & Co. as it would be known for its first six years of operation, quickly turned heads in the industry for its great innovations. The two men were famed perfectionists, believing that only absolute perfection was the goal, and anything less would be a failure.
This mindset would bear fruit for the pair as Patek Philippe rose the ranks in the world of luxury watches thanks to a variety of notable innovations, including the first double chronographs, a stem-winding watch, and more.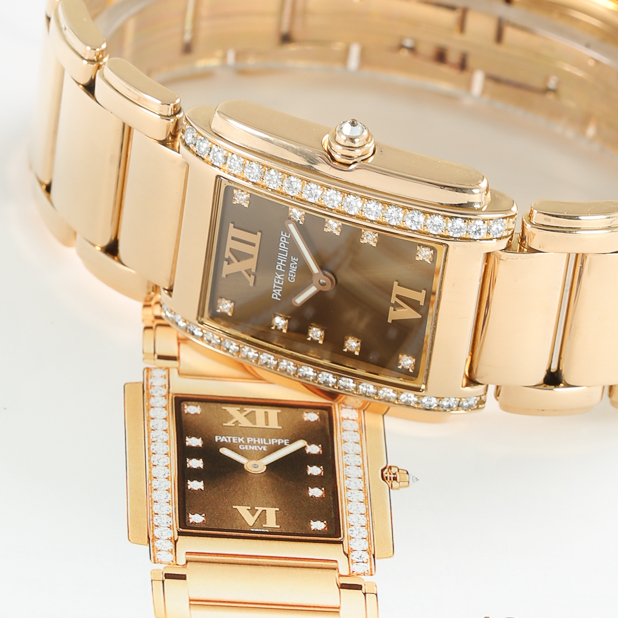 In the early 1930s, as a result of the Great Depression, the Patek Philippe company needed new investment in order to continue operation. They found it in the form of a pair of Genevan siblings Jean and Charles Henri Stern. The Stern brothers would go on to purchase a majority interest in the company and continue to oversee its operation to this very day.
Nowadays, Patek Philippe is a long established name in the halls of illustrious creators of luxury timepieces, and with an estimated annual revenue of over $1billion, the company has gone from strength to strength throughout the last 180+ years.
For more information on the backstory and history behind Patek Philippe, one of the great makers of high-end luxury timepieces in the world today, check out our blog covering the subject in greater detail.
Patek Philippe Watch Movement
When selecting the ideal Patek Philippe watch to add to your collection, it is important to do your research into some of the vital components that go into these highly sought after items. Perhaps the most important component of any luxury timepiece is the movement, Patek Philippe watch movements come in three types; manual winding, self-winding, and quartz.
Just as the name suggests, manual winding movements are those watch movements that are wound manually by turning the crown. The tensioned mainspring then drives the wheel inside the watch as it relaxes over time. Manual watch movements are a firm favourite of lovers of the traditional art of watchmaking.
Unlike manual, in self-winding movements the mainspring is wound automatically by a rotor powered as a result of the movements of the wearer's wrist. Patek Philippe produced rotors are made from either 21 or 22 karat gold — the company has been developing and innovating upon self-winding movements since 1953.
One of the most innovative and inventive watchmakers in history, Patek Philippe are proud to have been among the very first adopters of electronic timekeeping all the way back in 1948. In the time since the company has produced a number of high-precision quartz movements to fit the 'absolute perfection' mindset of the company's founders.
Does a Patek Philippe Hold Value?
Generally a Patek Philippe watch will likely hold its value well. As a result, many potential watch collectors often keep an eye out for a viable model of Patek Philippe to purchase for a short period of time, hold on to until the perfect moment, and sell on for a profit.
It has also been known for a certain model or piece to rise in popularity and reverence over the years. This is most common when certain collections become more scarce once they are no longer being regularly manufactured. This scarcity is fueled by the likelihood that some of this particular model will be locked in a safe or considered an heirloom, some will have been lost, and some will have been broken.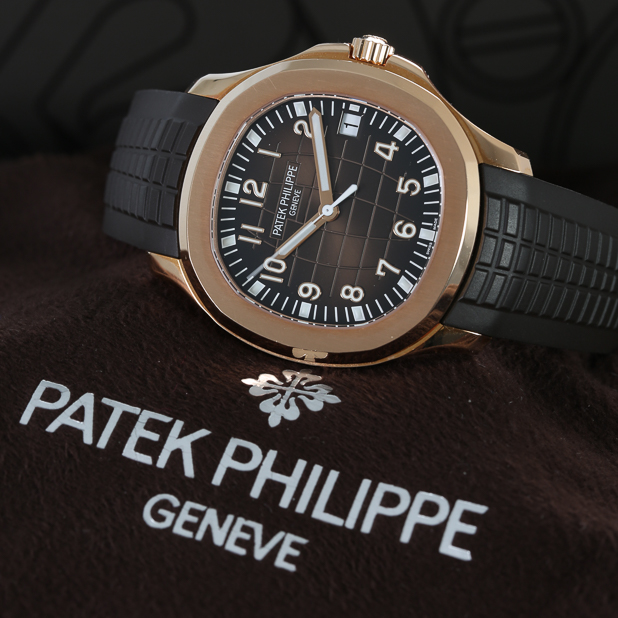 It is also possible that a certain model price can be influenced by something much more modern like the media, or even social media. All it takes is a social media post of a Kardashian or for an action hero played by a Dwayne Johnson type to be seen wearing a certain Patek Philippe model for its price to skyrocket.
Not all Patek Philippe models increase in value however, and it is always worth doing the appropriate research before committing to such a high-price purchase. However, there are a few models always worth keeping an eye out for; including most notably Nautilus and Aquanaut models which can increase end on end in price in the years after they release.
Ultimately, no matter what factors go into determining the fluctuation of the model's sale price, a Patek Philippe watch can be generally expected to hold its value. However, it is of the utmost importance that you do your research and under no circumstances should you rush into a purchase without weighing up the decision.
Which Patek Philippe to Invest In
Patek Philippe has produced a variety of iconic and beloved models that have truly stood the test of time. However, some more than others have gone on to become excellent investment pieces likely to appreciate in value over time. This includes the aforementioned Aquanaut and Nautilus, as well as models such as the Calatrava and World Time.
Patek Philippe Nautilus
Nautilus stands out as Patek Philippe's initial foray into luxury sports watches — what was, at the time, a brand new category of watch first conceived in the 1970s.
Patek Philippe launched their first collection of luxury sports watches, the Nautilus in 1976, around four years after the Audemars Piguet Royal Oak innovated the scene. The 3700/1A reference, designed by the same man tasked with designing the Royal Oak, Gerald Genta, would go on to help establish this collection as one of the most popular and highly sought after in the history of Patek Philippe.
Beloved for their famous porthole design. The Nautilus is, to this day, one of the most unique sports watches available — but with sometimes years-long waiting lists to get your hands on a new one — it's clear that the unique designs are much beloved.
The sale prices for Patek Philippe Nautilus watches have risen year on year over the last decade, ensuring Patek Philippe's famed Nautilus collection remains a consistent investment piece to this very day.
Patek Philippe Aquanaut
Deemed by some to be a more affordable alternative to the Nautilus juggernaut, the Patek Philippe Aquanaut bares some similarities to the Nautilus in design as the original and iconic collection was a huge inspiration behind the creation and release of the Aquanaut in 1997.
A wildly successful and popular chronograph in its own right though, the Aquanaut offers up to 120 metre water resistance and will last for around 40 hours.
While the Aquanaut collection may be more affordable than the Nautilus, the models of this newer line do still hold their value. This makes the Aquanaut a popular pickup for prospective collectors looking to spend less initially — the ultimate return will likely be less but the risk is lessened by the smaller price tag.
Patek Philippe Calatrava
Viewed by some ardent fans as the perfect wristwatch, Patek Philippe Calatrava watches perfectly combine minimalist design with elegance and style to create one of the most timeless and sought-after collections Patek Philippe has ever produced.
Patek Philippe Calatrava models feature slim silhouettes, simple dial layouts, and luxurious leather straps designed to build one piece that can complement any and all wrists it adorns.
The popularity and huge fanbase for this model ensures that it will maintain its excellent investment potential for years to come.
Patek Philippe World Time
The most iconic model within the wider 'complications' family, the Patek Philippe World Time can be traced all the way back to the 1930s. The World Time was famed for many years upon its initial release for its ability to display the time simultaneously in all 24 time zones.
The World Time is an excellent combination of master craftsmen and world class engineers creating something marvellous, all wrapped in one of the most attractive cases in the history of Patek Philippe — and sure to be a worthy investment and addition to any collection.
Second Hand Patek Philippe Watches from Blowers Jewellers
If you have read through this Patek Philippe investment guide and decided that a watch from this famed Swiss watchmaker is right for you, the most important step now is to decide just where it is you want to make your purchase. When it comes to an investment like a luxury watch it is important that you are dealing with somebody you know that you can trust.
Blowers Jewellers have amassed decades of experience helping pair buyers with their dream luxury watch. In this time we have built a sterling reputation for providing an excellent service, as well as trustworthy advice to everybody we deal with.
For more information on how Blowers Jewellers can help, come by our Kingston Upon Hull branch or contact a member of our team today. You can also book an appointment to visit us at our London's Mayfair location.