Whether you're exploring dark and dangerous shipwrecks or beautiful coral reefs, every underwater adventurer needs a professional level diving watch they can rely on. For serious divers, timing is everything, and it's vital to get it right.
That's why many of the big names in horology have at least one divers' watch in their range. Creating watches that function perfectly underwater requires a phenomenal level of expertise, and demonstrates the horological prowess of any watch brand that does it well. If you're a serious diver – or if you're just serious about masterfully designed watches – then you need to buy from a brand you can trust.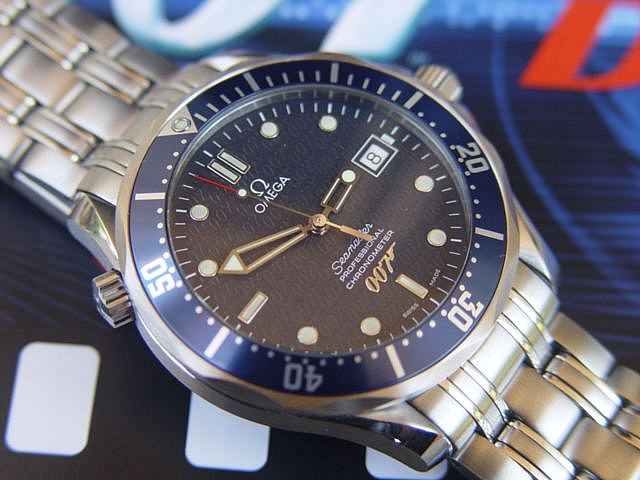 So take our advice and have a look at these ten luxury divers watches. Each one of these watches demonstrates exemplary functionality and design, making these amongst the best diving watches on the market today.
1. Rolex Submariner
One of the most recognisable and desirable watches ever, the iconic Rolex Submariner was first created as a divers' watch. Although the Submariner's satisfying masculine design makes it suitable for most occasions, the Submariner boasts exceptional underwater performance, having been tested under the most extreme conditions by the US Navy. Modern Submariners in Oystersteel casing are water resistant up to 300 metres, and amongst Rolex divers' watches, they are rivalled only by Rolex's Deepsea Sea-Dweller. Rolex Submariners are also known to retain their value exceptionally well, leading many watch experts to view them as a sound investment for watch collectors.
Browse our current stock of Rolex Submariner watches.
2. Omega Seamaster
Known by many as the James Bond watch, the Omega Seamaster is a truly iconic divers' watch. First released in 1948, the Seamaster was inspired by the underwater watches used by the British military at the end of the Second World War. Taking cues from the rubber gaskets that are used on submarines, Omega Seamaster watches are fitted with a rubber O-ring to keep water out. Be like James Bond and get one of these for your collection.
View Blowers' range of Omega Seamaster watches.
3. Audemars Piguet Royal Oak Offshore
Considered a must-have by nautical enthusiasts, the Audemars Piguet Royal Oak Offshore is a modern classic. The oversized Royal Oak Offshore boasts a distinctive, sporty design, and is a firm favourite amongst many sporting greats of our time. Indeed, Audemars Piguet has released Royal Oak models bearing the name of sporting champions including cricketer Sachin Tendulkar, formula one driver Michael Schumacher, and basketball star Shaquille O'Neal. Designed by the legendary Gérald Genta, the distinctive screws on the bezel were inspired by the screws that hold a divers' helmet to the diving suit.
Take a look at our Audemars Piguet Royal Oak Offshore watches.
4. Panerai Luminor
Officine Panerai began producing divers' watches for the Royal Italian Navy as far back as 1936. Their unmistakable Panerai Luminor models feature a small lever to ensure the seal is watertight. The Luminor is named after the luminescent material on the dial that makes the watch face legible in dark underwater conditions. Watches within Officine Panerai's Luminor collection also include the Luminor 1950 and Luminor Submersible – each bearing Panerai's distinctive nautical styling and signature functionality.
View our range of Panerai Luminor watches currently in stock.
5. IWC Aquatimer
First released in 1967, the Aquatimer is German brand IWC Schaffhausen's definitive divers' watch. It was designed to meet the needs of a growing market of scuba divers in 1960s. The first IWC Aquatimer was fitted with an internal rotating bezel to display dive time, and is water resistant up to 200 metres. The titanium model released in 1982 boasts water resistance to 2,000 metres, making it amply engineered to meet the requirements of even the most extreme dives.
Browse IWC Aquatimer watches from Blowers.
6. Breitling Superocean
Breitling is renowned for its aviation watches, but the Superocean shows beyond doubt their proficiency at making watches for underwater use. Breitling's ultimate diver's watch, the Superocean was designed for professional and military divers. Launched in 1957, some models today are water resistant to 2,000 metres. The Superocean is finished with a sapphire crystal front. Breitling's patented luminescent technology ensures that the central hands and hour indexes are brilliantly legible.
View our stock of Breitling Superocean and Superocean Heritage watches.
7. Patek Philippe Nautilus
Named after the submarine in Jules Verne's novel 20,000 Leagues Under the Sea, the Nautilus is a highly sought-after classic from Patek Philippe. The watch was designed by Gèrald Genta, and its distinctive octagon shape was inspired by the portholes on the fictitious submarine. When the watch was first released in 1976, Patek was known almost exclusively for its complicated watches in precious metals, making this steel sports watch a daring addition to their collection.
Browse our range of Patek Philippe Nautilus watches.
8. Calibre de Cartier Diver
The Calibre de Cartier Diver builds on Cartier's collection of sports-inspired watches. Aesthetically, the Calibre Diver is very similar to the Calibre de Cartier, distinguished mostly by its diver's bezel. Importantly, the Calibre Diver boasts 300 metre water resistance – some ten times the resistance of the original Calibre de Cartier. The Calibre de Cartier Diver is just 11mm thick – placing it firmly towards the thinner end of the divers' watch spectrum.
View Blowers' range of Calibre de Cartier watches.
9. Rolex Sea-Dweller
Only a few watches can be said to stand up against the Rolex Submariner, and the Rolex Sea-Dweller is one of them. Based on the Submariner design, the Sea-Dweller was developed by Rolex in collaboration with the US Navy during their SEALAB research project. Designed to meet the requirements of saturation divers, the Sea-Dweller features a gas escape valve. The valve is necessary to release helium gas which is mixed in the air supply of saturation divers, and which had previously interfered with the Submariner design, causing the crystal to pop off after a dive. The watch was named Sea-Dweller due to the impressive lengths of time that the watch can function underwater without impediment.
Browse Rolex Sea-Dweller watches.
10. Tudor Black Bay
The Tudor Black Bay, like so many watches, takes many of its cues from the Rolex Submariner. The Black Bay was released in 2012 after its predecessor, the Tudor Submariner, was discontinued in 1999. The new underwatering offering from Tudor – Rolex's sister brand – bears a distinctive domed crystal and white 'snowflake' hands. Water resistant to 200 metres, and boasting an impressive 70-hour power reserve, the Black Bay is amply capable to meet the demands of serious divers.
Browse Blowers' current stock of Tudor watches.
Offering supreme functionality in the even most adverse underwater conditions, each of these professional luxury divers watches demonstrates watchmaking excellence. Their value lies not just in their incredible style, but in the reliability and functionality they provide for the most daring of underwater adventurers.
Looking for a watch that's not on this list? Get in touch and we will endeavour to source it for you.